Refreshing Body wash for people who commute, work & play.
Sale price
₹ 650.00
Regular price
₹ 700.00
Unit price
per
Save up to ₹50
Do more of what you want - Commute,run, play & get sweaty because this body wash deep cleanses and hydrates skin, eliminates body odour and energises you all at once.
Made with skin soothing and moisturising ingredients like Jojoba Oil, Coconut Extract, and Squalane, this body wash will revitalise & reboot your body even after the most challenging of workout and leave you smelling like even better thanks to a combination of non-synthetic Bergamot & Mint.
It also has Citric acid to clear dead and rough skin build up, regulate oil and thus acne as well as soothe any form of redness or rashes.
Made for:
Active lifestyle in the traditional sense aka sports and gym.
Modern active lifestyle for daily athletes who are pro at catching crazy crowded metros, chasing the taxi, running & grabbing a table in a crowded restaurant.
Read more
What is it good for?
brightening

refreshing

soothing

eliminates body odour

hydrates

skin clarifying

calming
View full details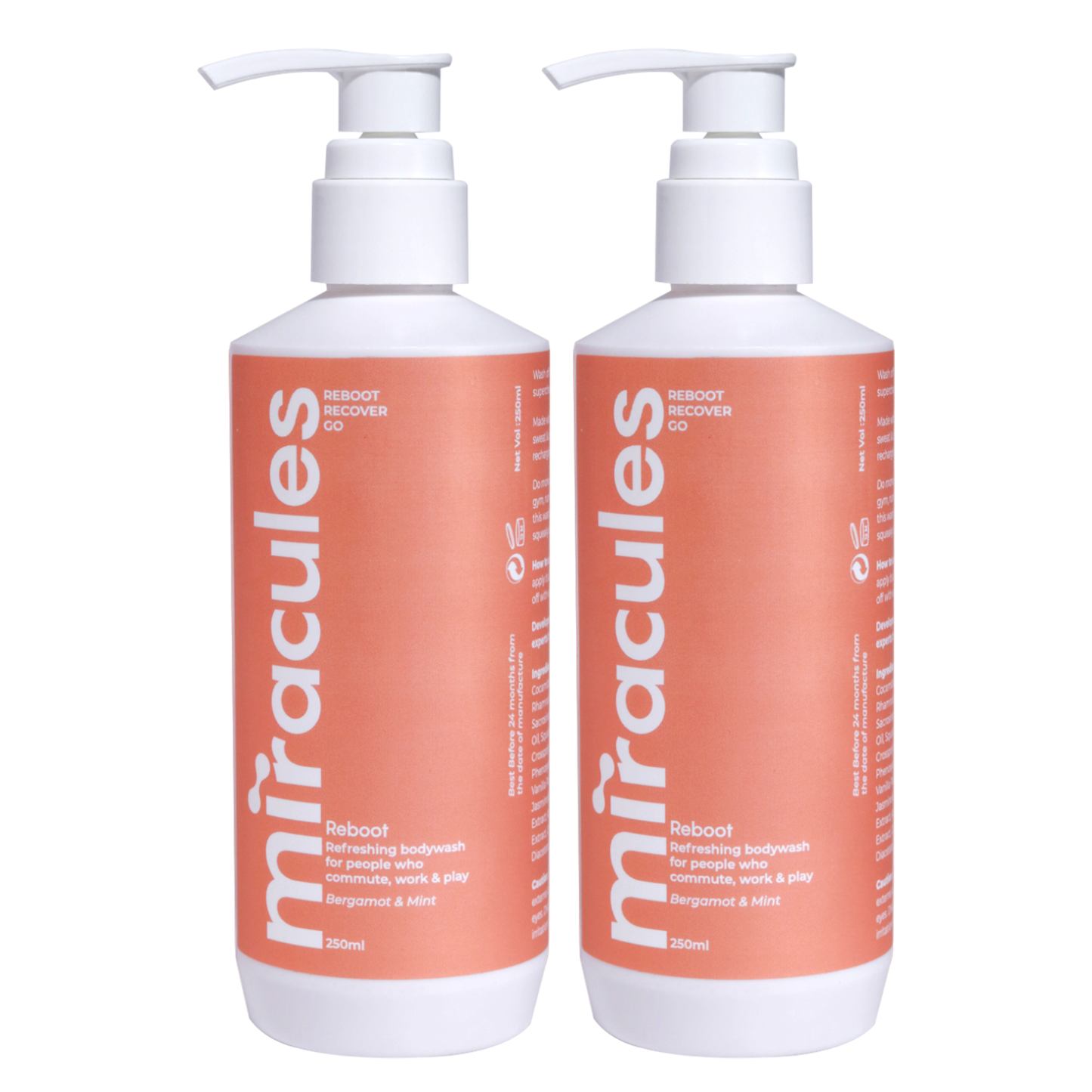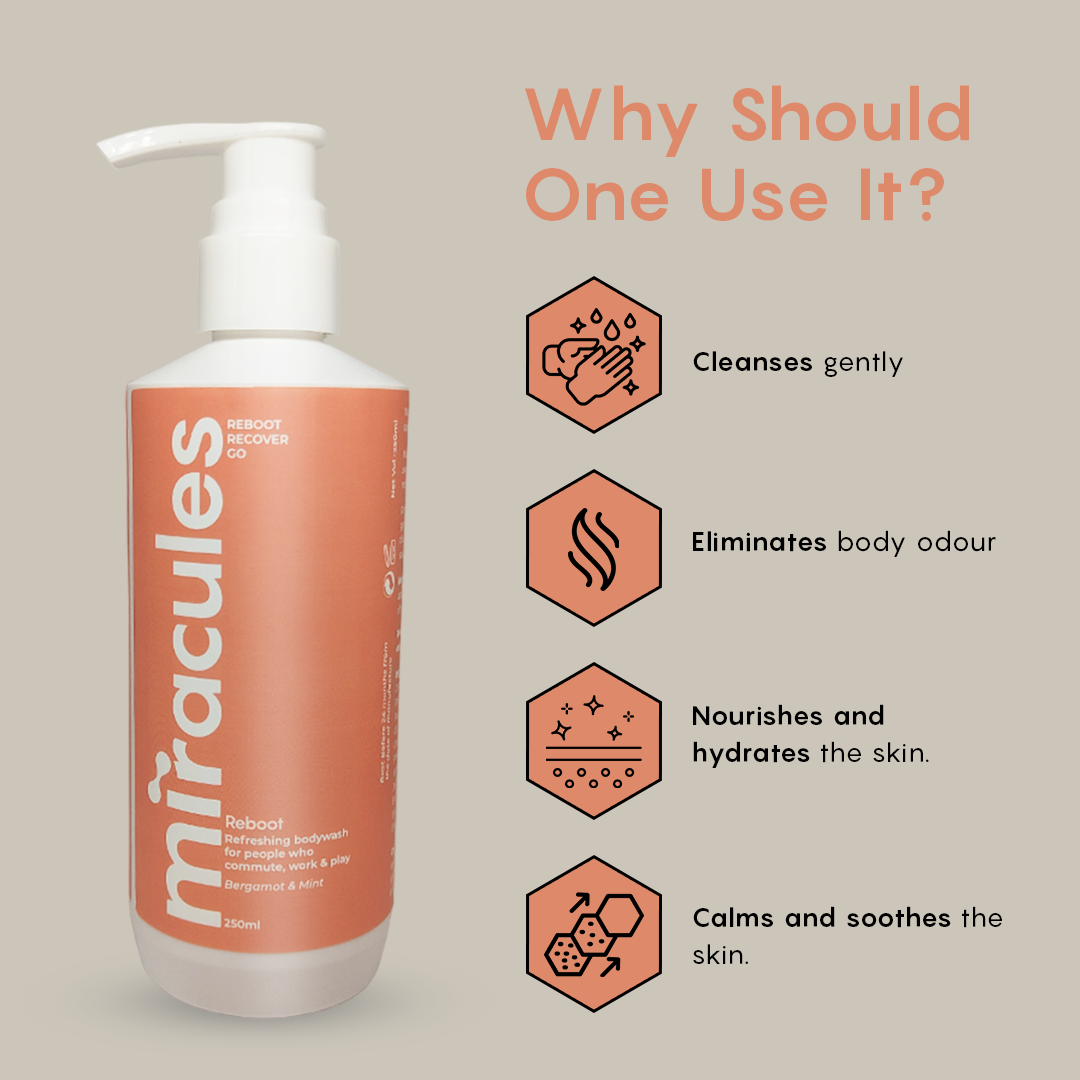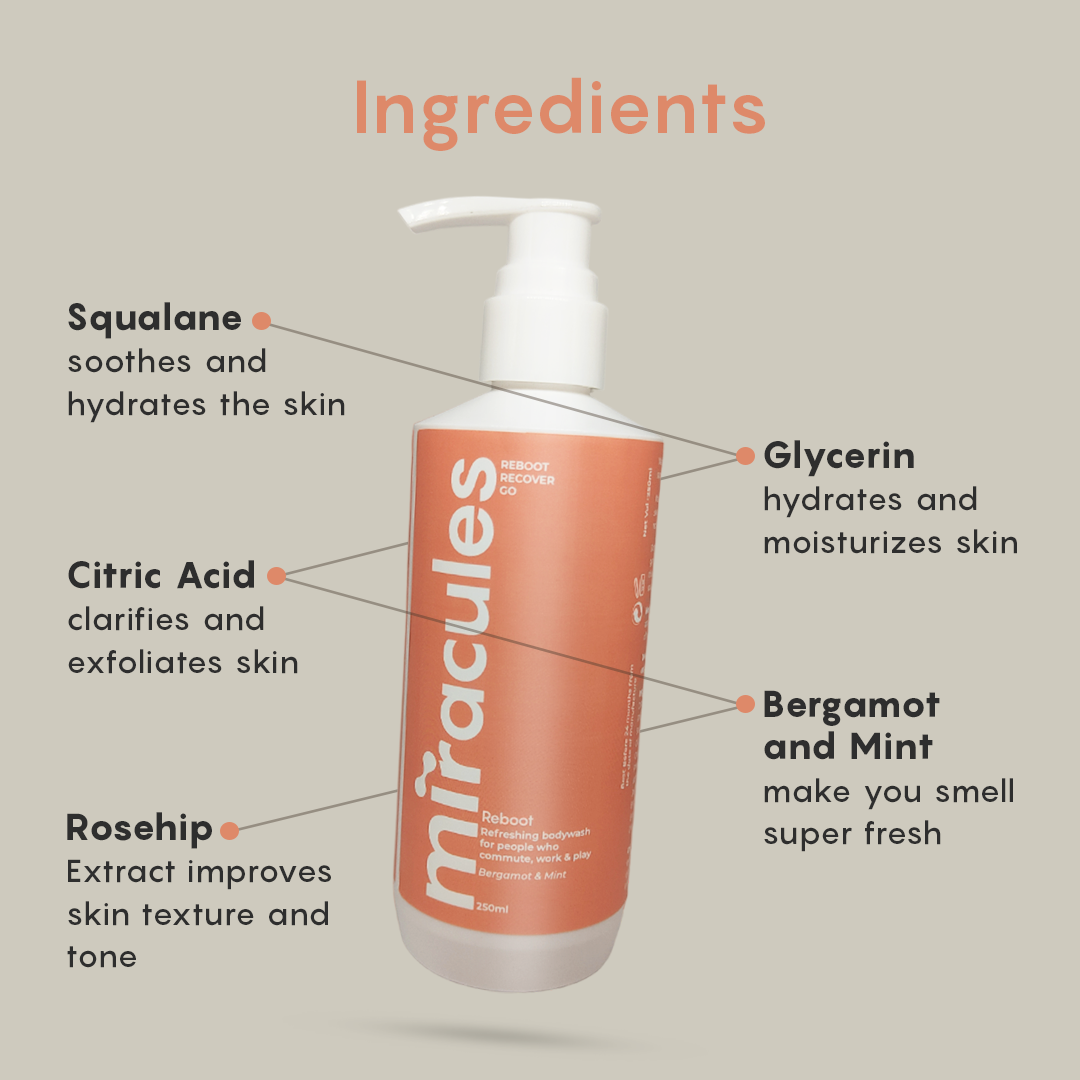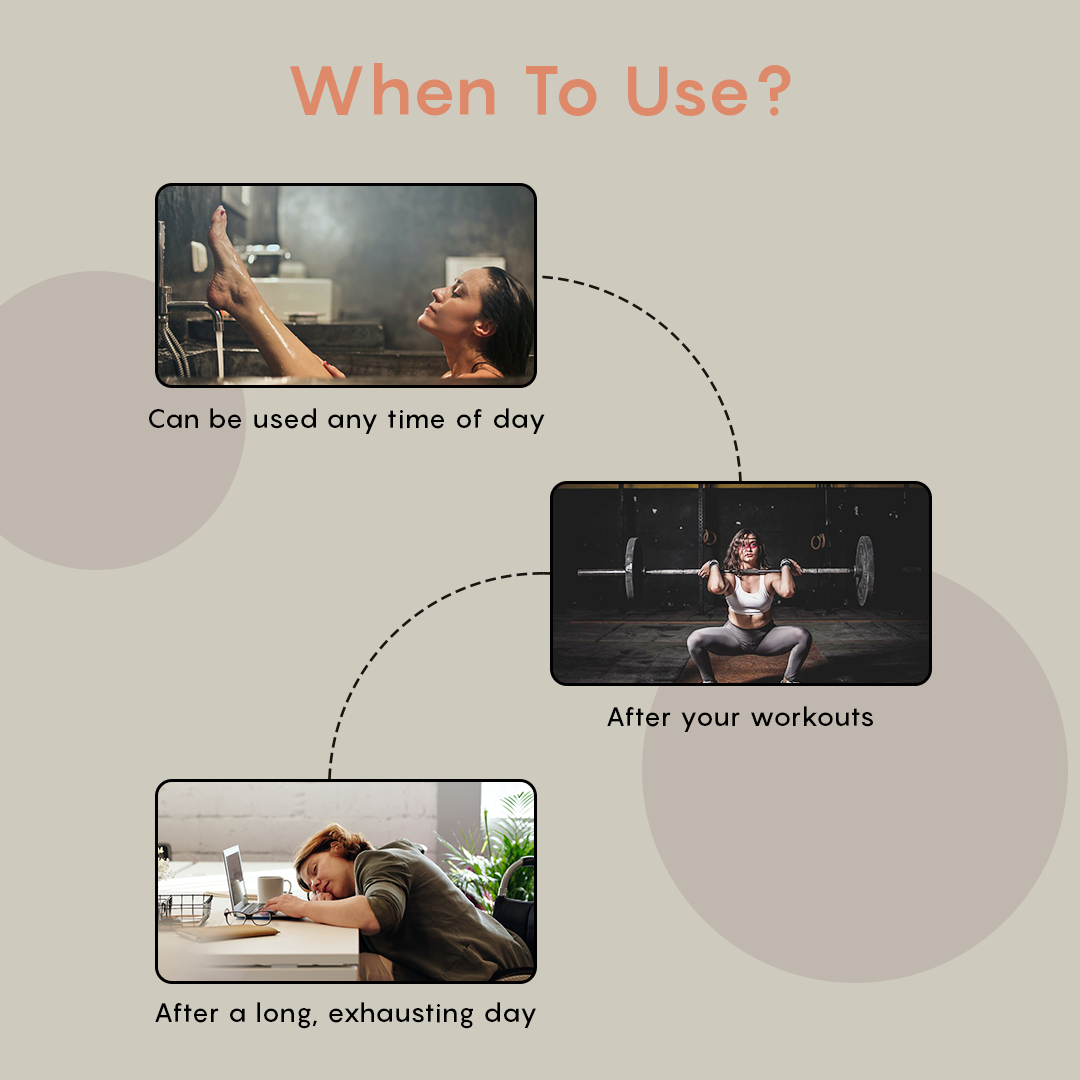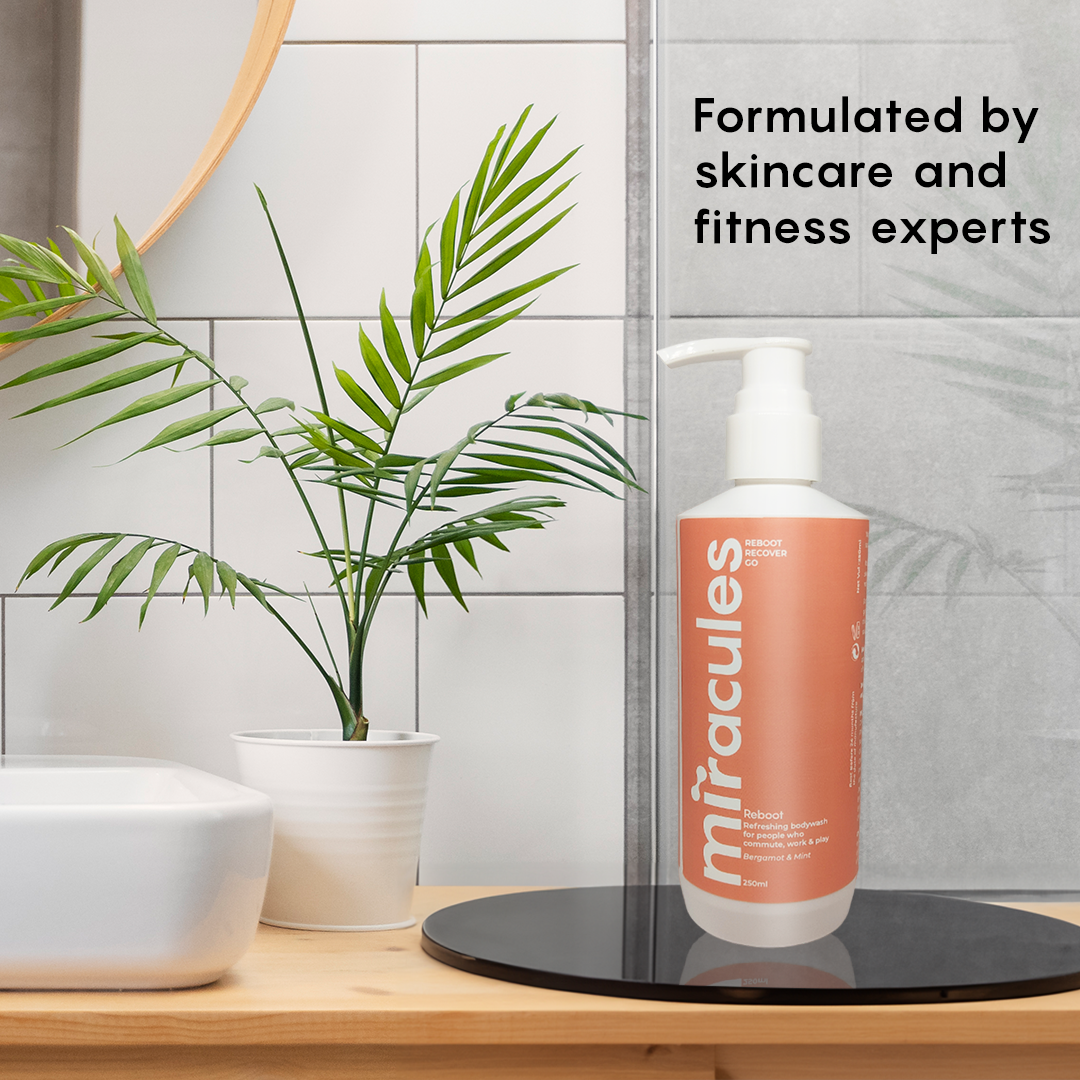 How it works?
Product details
How to use?
The miracle is in the molecules.
Here's how ingredients work together to give amazing results:
1. Soothing & Calming:
Squalane: If you are among the people who suffer from itchiness post workout or skin redness, then squalane is a blessing for you. It absorbs easily and doesn't disturb the skin's pH resulting in a more balanced & less irritated skin. We all know how calming & moisturising Coconut extract is, it makes the dryness & itchiness go away while also reducing friction & chafing. Both these ingredients also give relief from that burning sensation since they have calming & soothing properties.
2. Clearing dead skin build up:
Citric Acid is a type of AHA that has a great exfoliating power that works to remove dead skin, reveal clearer skin & fight off skin pigmentation. It also works as anti-oxidant and averts damage caused by free radicals.
3. Reduces body acne:
Rosehip extract is anti-inflammatory in nature, so it calms down the redness and itchiness of the chaffed/scratched/compromised skin. It helps reduce your inflammatory acne, get rid of acne scars, and clear your skin. It works to repair & brighten the skin.

Scent:
Bergamot & Mint
Texture:
Lightweight Foaming Gel
Ideal for:
Commuters, Gym folks, newbie & pro athletes and basically anyone who runs around in their day!
Take a generous amount and apply it all over your body until it lathers. Wash off with water. Follow it up with Acne Resolution anti acne spray on areas prone to acne and On Active body brightening cream.
Use daily for best results.
Do a patch test before beginning use.
CAUTION
For external use only. Avoid direct contact with eyes. If contact occurs, rinse thoroughly with water.
Discontinue use and consult a doctor if an irritation occurs.
Keep out of reach from infants and children.