Exfoliating, Brightening & smoothening body cream (Liquorice + Kojic Acid + Niacinamide)
Sale price
₹ 699.00
Regular price
₹ 990.00
Unit price
per
Save up to ₹291
Multi actives for multi concerns caused by sweat & friction, like skin darkening, strawberry skin, pigmentation!
On Active Duty is a true multitasker! Lightweight, fast absorbing -  it combats skin darkening, razor bumps, strawberry skin, sun-spots, red spots and tiny bumps on the body.
This high performance cream is fuelled by liquorice, Kojic Acid, Niacinamide, Glycolic Acid, Salicylic Acid, and Bakuchiol.
Made for:
Active lifestyle in the traditional sense aka sports and gym.
Modern active lifestyle for daily athletes who are pro at catching crazy crowded metros, chasing the taxi, running & grabbing a table in a crowded restaurant.
Read more
What is it good for?
brightening

exfoliating

smoothening

fast absorbing

moisturizing

fades pigmentation

soothes razor bumps

works through sweat
View full details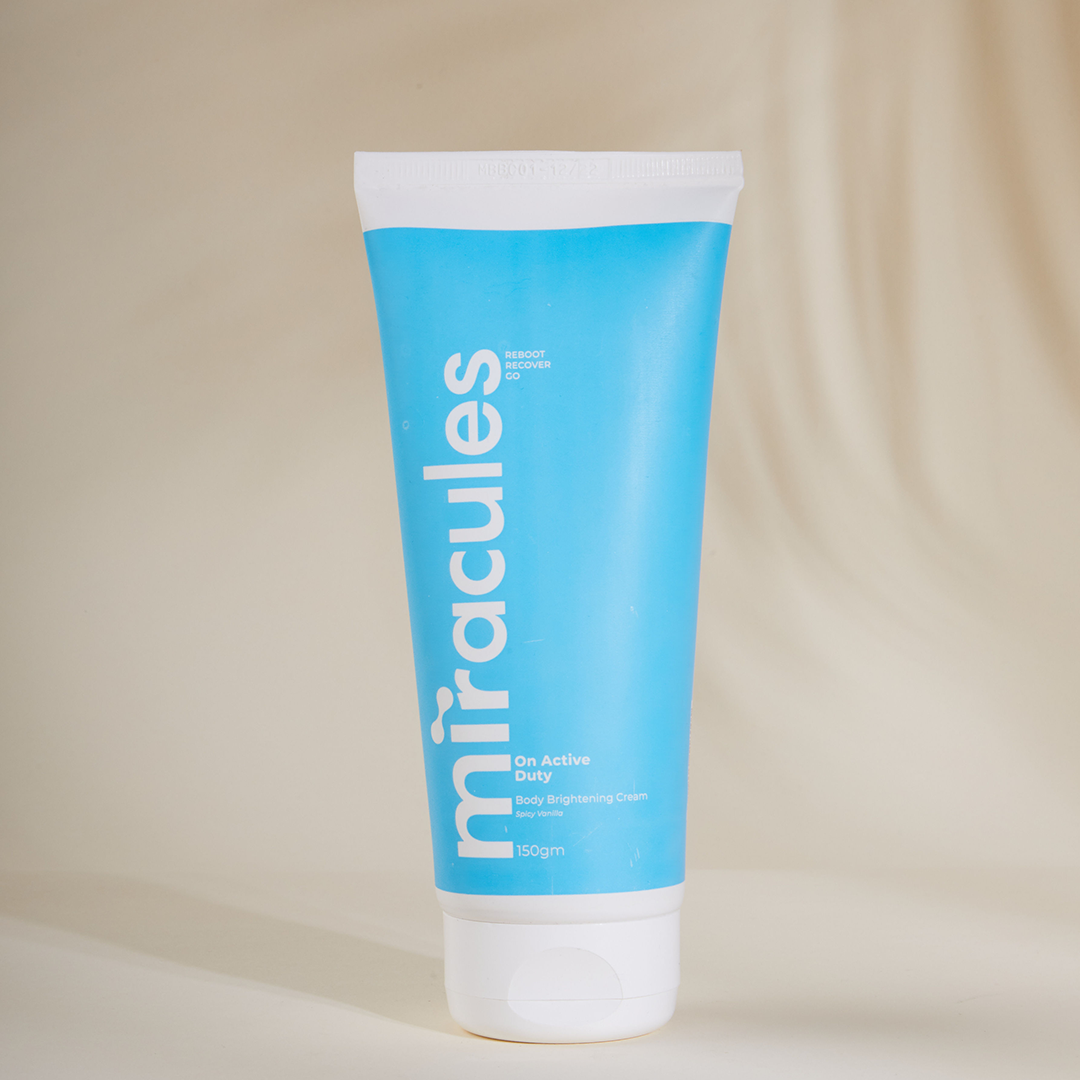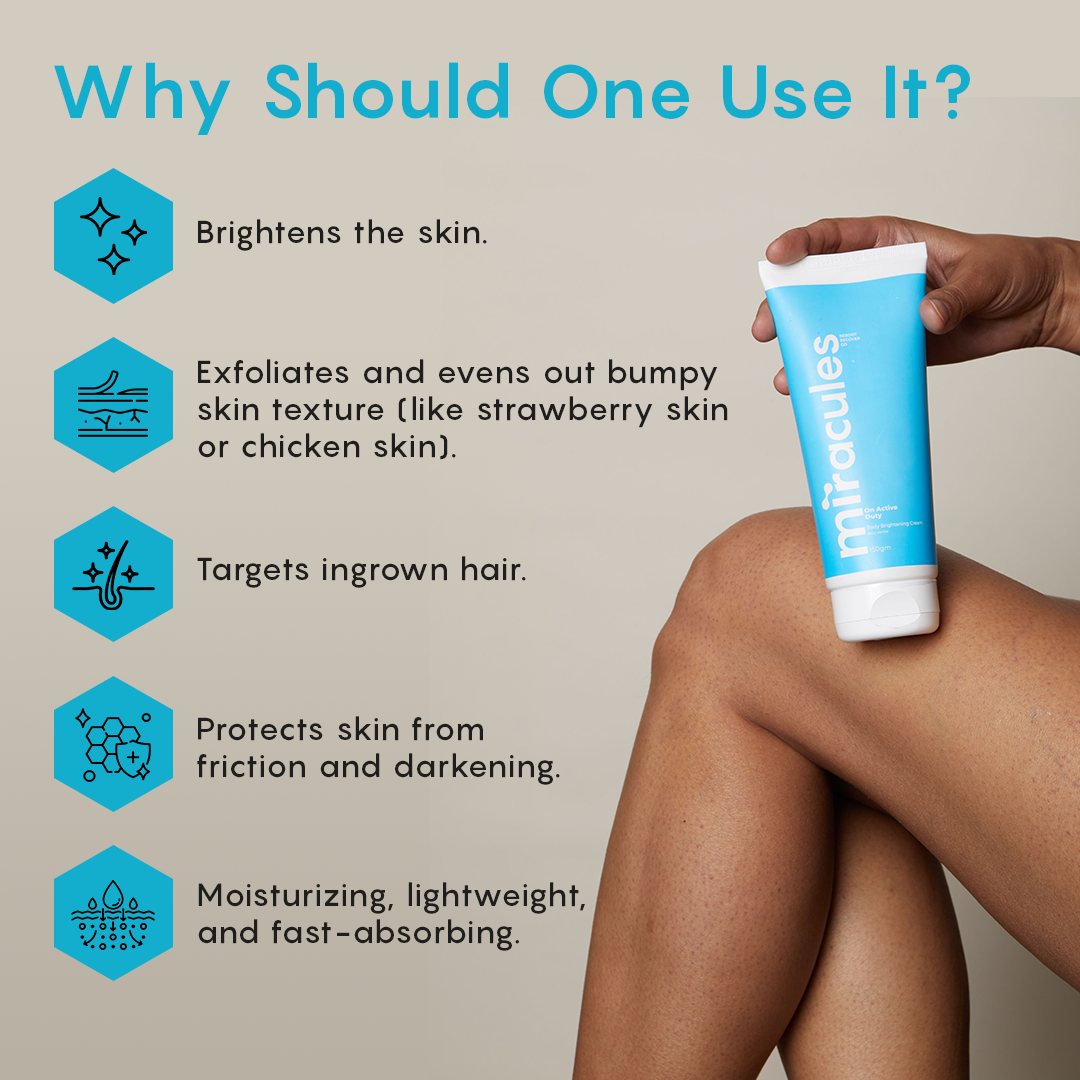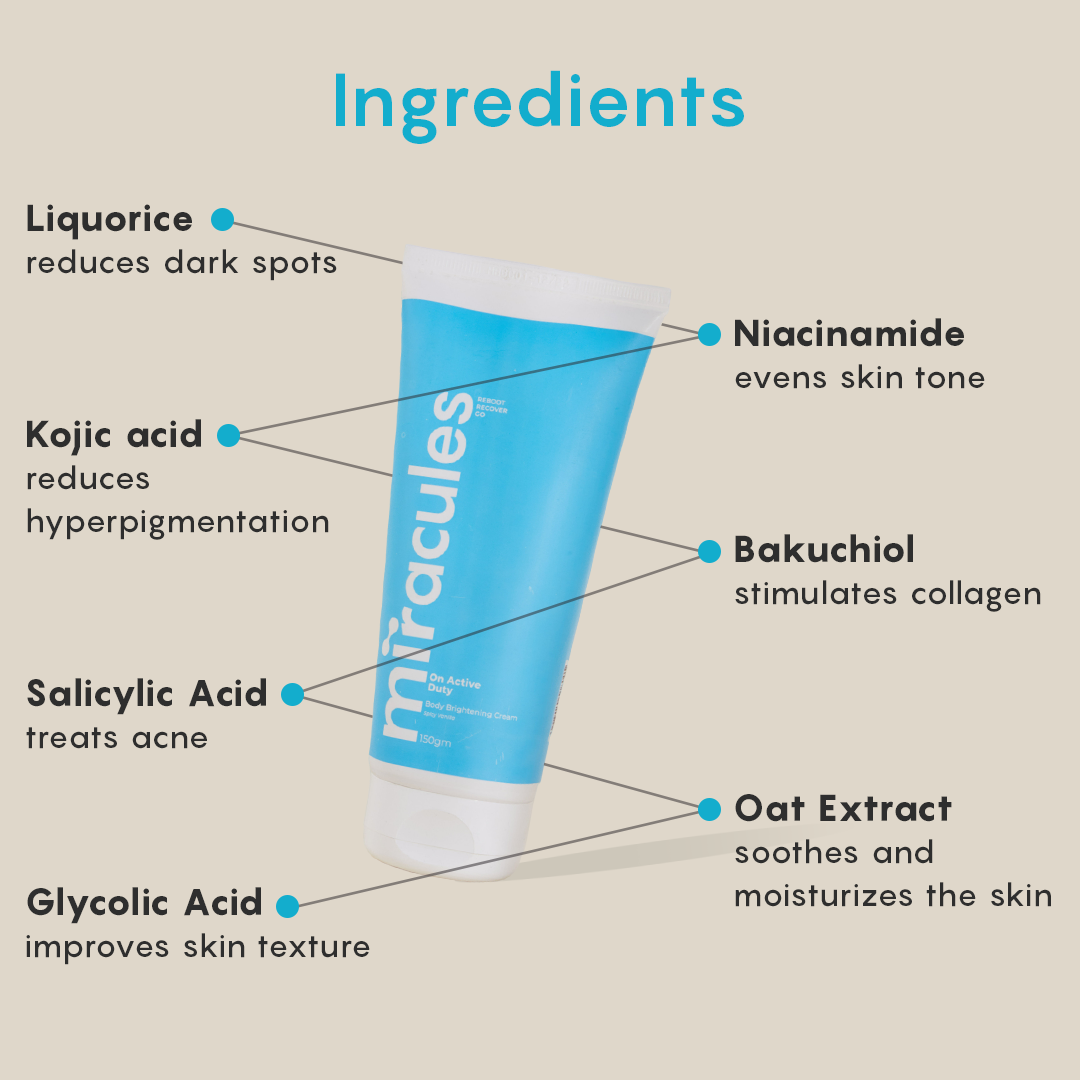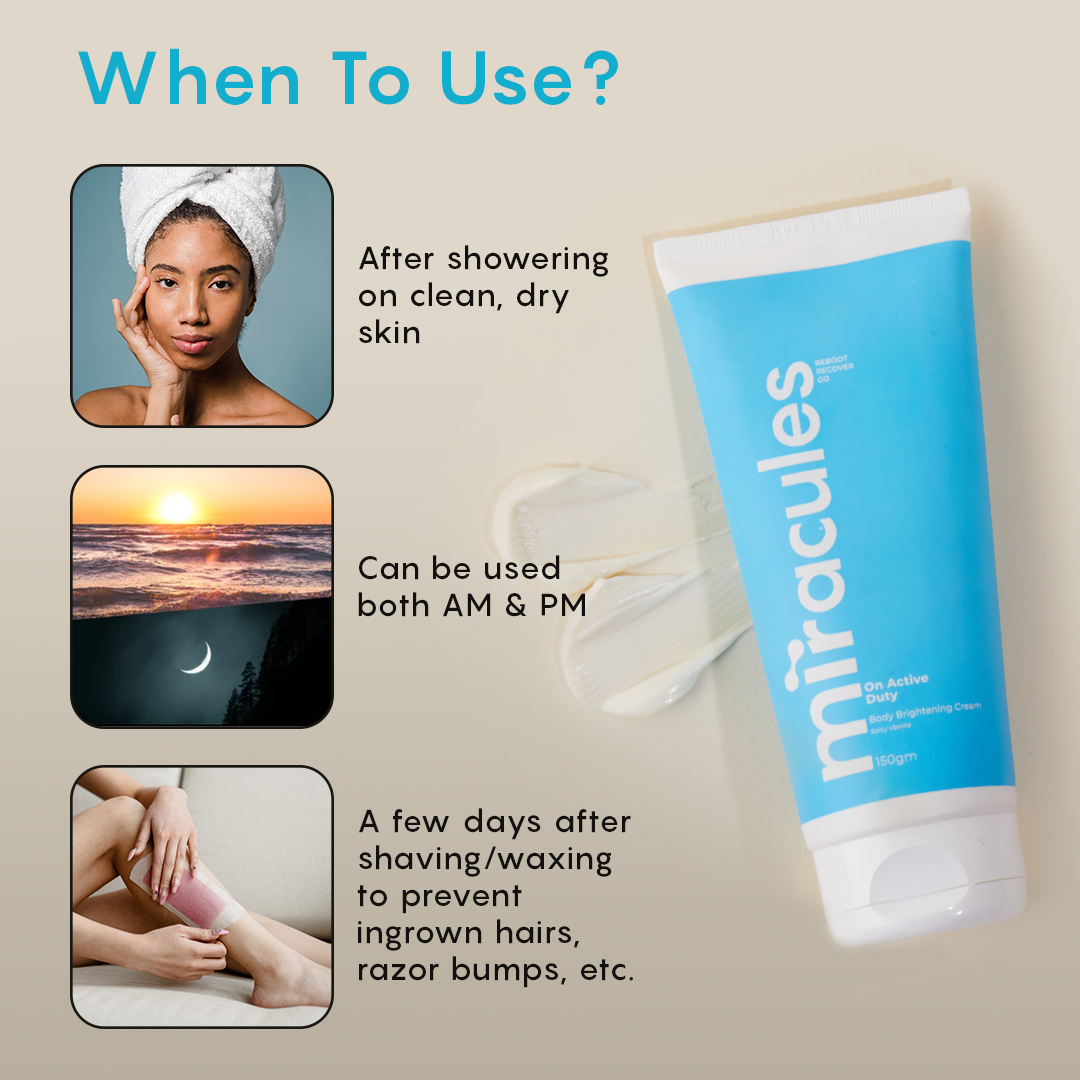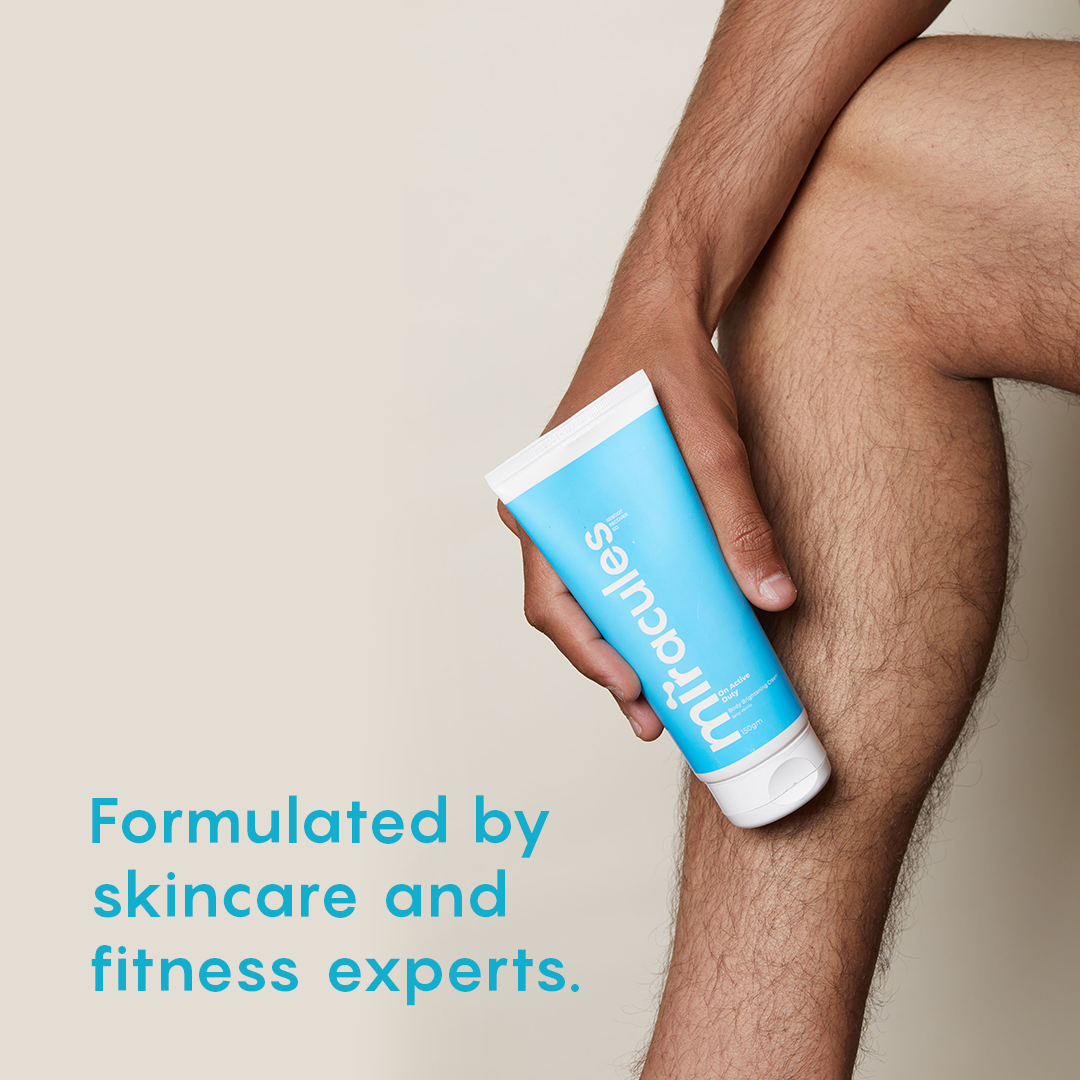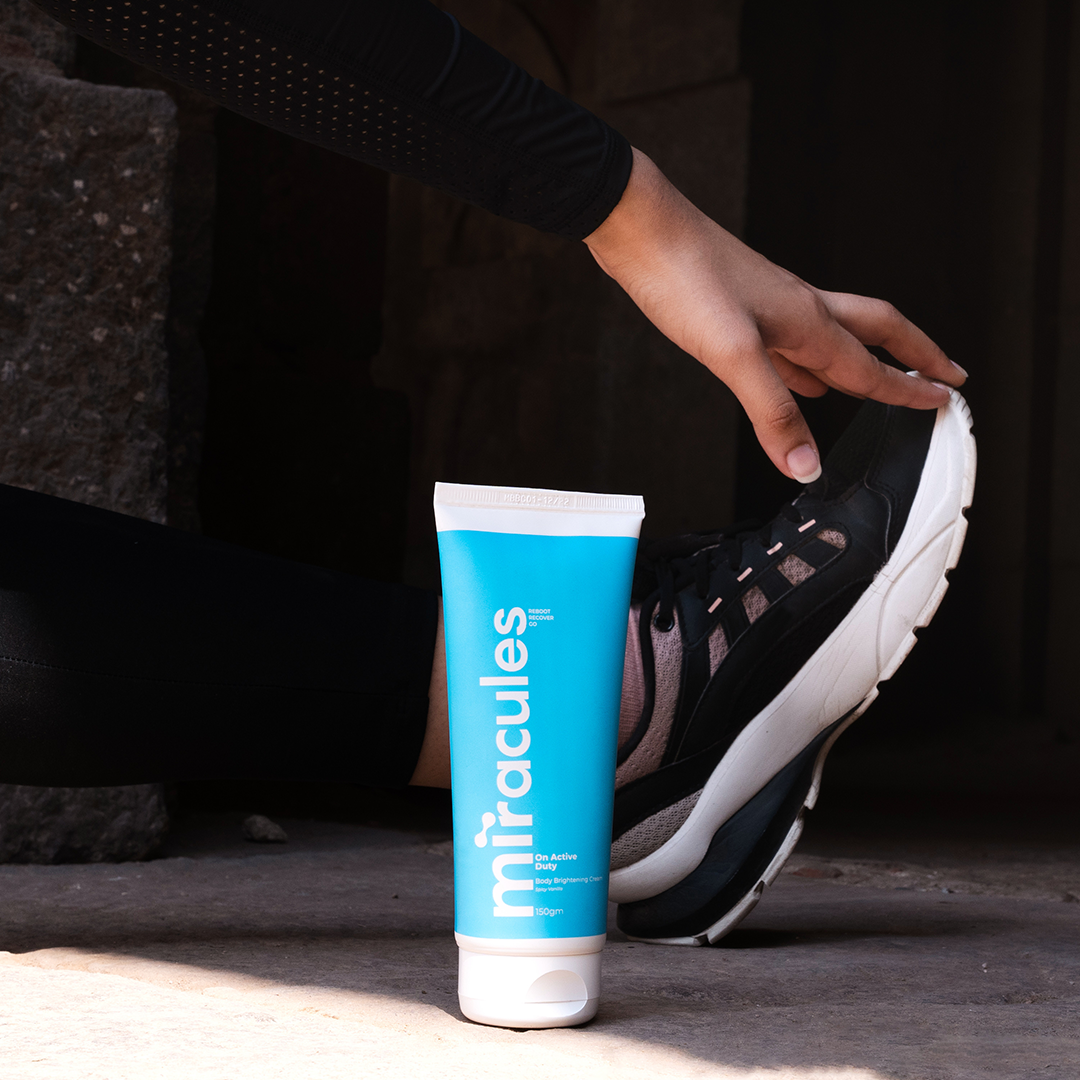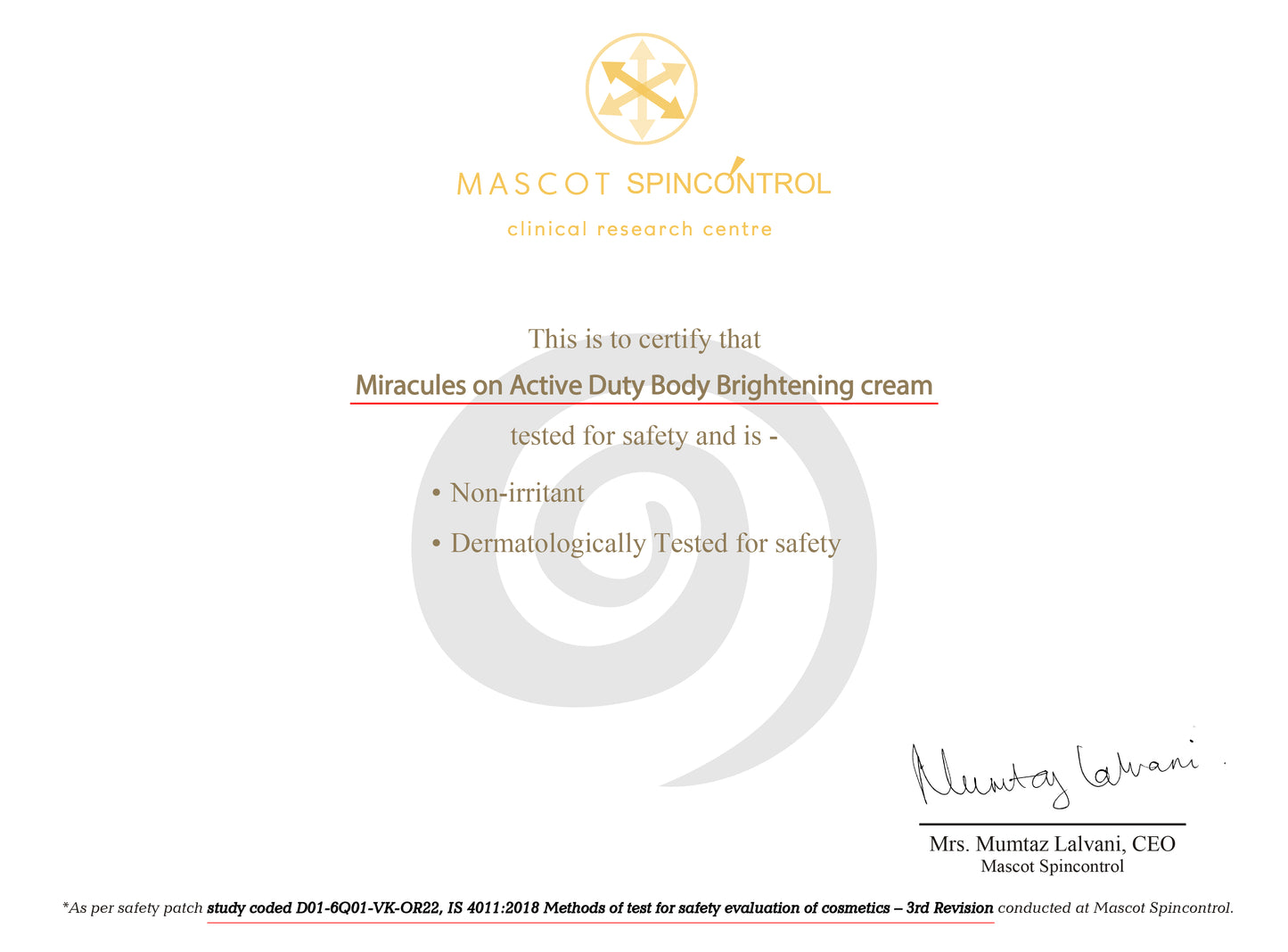 How it works?
Product details
How to use?
The miracle is in the molecules.
Here's how ingredients work together to give amazing results:
1. Body Brightening: Liquorice Extract , Kojic Acid and Niacinamide work in tandem to reduce pigmentation. For those who are new to liquorice, this ingredient boasts of depigmenting properties that (some studies claim) can reverse pigmentation caused by UV B rays.
Meanwhile, Kojic acid works on preventing pigmentation by inhibiting an enzyme necessary in the production of melanin, helping dark spots and discolouration fade.
Niacinamide has also been known to prevent the transfer of pigment within the skin and makes the skin look brighter.
2. Moisturising & Skin Healing: With all that brightening and exfoliation, it is extremely important to keep the skin moisturised to prevent dryness or dehydration.
Made with Aloe Vera Extract, Oat Extract and Centella Asiatica Extract, the moisturiser penetrates deep into the skin to provide hydration while healing the skin. These ingredients also have anti-irritant properties making them the perfect partners for exfoliated skin.
But it doesn't just stop there, Backuchiol and Niacinamide, also have anti-inflammatory & anti-ageing properties that restore skin elasticity and plumpness.
Working together, they provide a powerful dose of moisture while revealing a lighter, brighter & plumper skin.
3. Skin smoothening & exfoliating: Exfoliating the body is a great way to get rid of textured/bumpy skin along with lightening sunspots and red spots.
Contains BHAs that go deep into the pores to remove dead skin & sebum and AHAs like Glycolic Acid , which make for a great exfoliating combination. No more dead skin and sebum build-up leading to bumpy & textured skin.
Scent: Spicy vanilla
Texture: Lightweight, non-greasy cream
Ideal for: Coomuters, Gym folks, newbie & pro athletes and basically any one who runs around in their day!
Take a generous amount and apply it all over your body on clean/after-shower skin. Use daily (preferably twice) for soft, supple skin & that post-workout-glow all day.
Do a patch test before beginning use.